Austin, TX – As the world becomes ever more technology-based, individuals who are quick to embrace upcoming advancements thrive, while those who don't wane. In business, in particular, time is of the essence regarding adopting new technologies to gain a competitive edge over rivals. This is especially true in this age of Artificial intelligence, where everything seems to be changing unprecedentedly fast. 
For instance, ChatGPT, a pioneering open AI software, is taking the world by storm, redefining how things are done. The software's impact has been felt in all aspects of business and is particularly pronounced in marketing. Looking to capitalize on it, Speed To Lead, LLC recently launched SpeedToLead, a revolutionary AI chatbot powered by OpenAI's GPT.
The importance of good customer relations and reliable communications in running a successful business can never be over-emphasized. The problem, however, is how to guarantee the timely and convenient flow of information to ensure prospective customers always get any details they need on demand. Luckily, Speed To Lead, LLC's latest project puts this concern to rest. Being AI-powered, the company's new chatbot comes with game-changing capabilities that can set apart any business. Among SpeedToLead's most notable features, for instance, is its ability to engage in intelligent and meaningful conversations with potential customers, providing them with relevant information about a company's products and services.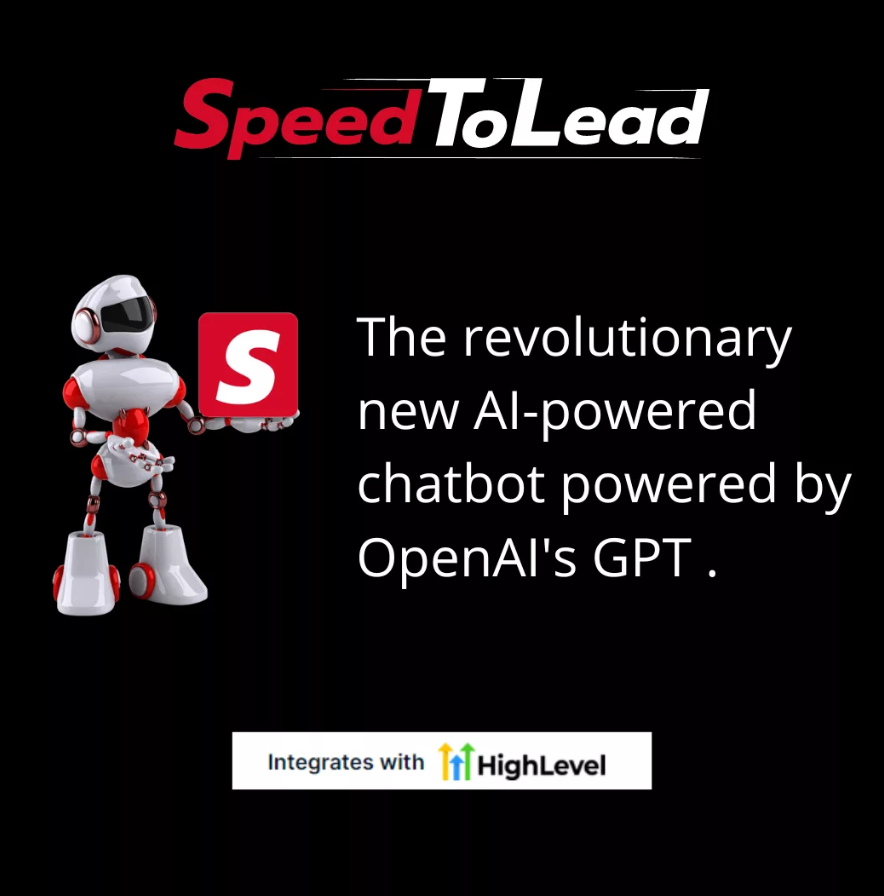 According to many who have tried it, SpeedToLead's most significant advantages over its older predecessors are its customization and integration capabilities. Regarding customization, the chatbot allows business owners to upload up-to-date information about their products and services to bring relevant decision-making information to any potential client's fingertips. Besides answering questions accurately, SpeedToLead can be customized to schedule appointments on autopilot. This ability is crucial for high-volume businesses struggling to track service and product orders. To give businesses even more advantage over their competitors, Speed To Lead, LLC integrated its new chatbot with GoHighLevel©, another powerful digital marketing tool that improves outreach and brand visibility. 
While commenting on SpeedToLead's far-reaching implications, Shane Cates, a co-founder of Speed To Lead, LLC, said, "SpeedToLead is a game-changer for businesses looking to streamline their marketing and sales processes. With our powerful AI technology and seamless integration with GoHighLevel©, we're empowering businesses to engage with their clients in a more meaningful and effective way. We're thrilled to launch SpeedToLead and help businesses achieve their marketing goals. The launch of SpeedToLead is a significant milestone for Speed To Lead, LLC, and we're excited to share this breakthrough technology with businesses worldwide. 
Individuals looking to give their businesses a boost can learn more about Speed To Lead, LLC's AI-powered chatbot by visiting the company's website. With SpeedToLead, businesses that adopt it early will benefit from its highly discounted introductory pricing. Interested individuals can direct any questions to a company representative at (855) 944-1456. The company is headquartered at 5900 Balcones Drive STE 100, Austin, TX, 78731, USA. 
Media Contact
Company Name
Speed To Lead, LLC
Contact Name
Shane Cates
Phone
(855) 944-1456
Address
5900 Balcones Drive STE 100
City
Austin
State
TX
Postal Code
78731
Country
United States
Website
https://speedtolead.io/