Raytown, MO – Bordner Home Improvement, a reputable provider of home improvement solutions based in Raytown, Missouri, is delighted to announce its recent attainment of the Owens Corning Platinum Preferred Contractor Award for Product Excellence. This notable accolade was given to the company during the highly regarded 2023 Owens Corning Roofing Platinum Conference, where it was commended for its exceptional contributions to the roofing industry. This marks the third year in a row Bordner has received this award, which is a testament to their consistency and reliability as a contractor. 
As an esteemed Owens Corning Roofing Platinum Preferred Contractor, Bordner Home Improvement solidifies its standing as a trusted and renowned name within the field. With a legacy spanning since 1987, the company's unwavering commitment to dependable workmanship and utmost trustworthiness has garnered the satisfaction of over 80,000 clients as a roofing company in Kansas City. This industry recognition serves as a testament to its unwavering dedication to a customer-centric approach, consistently delivering reliable and enduring services to homeowners in the Kansas City area.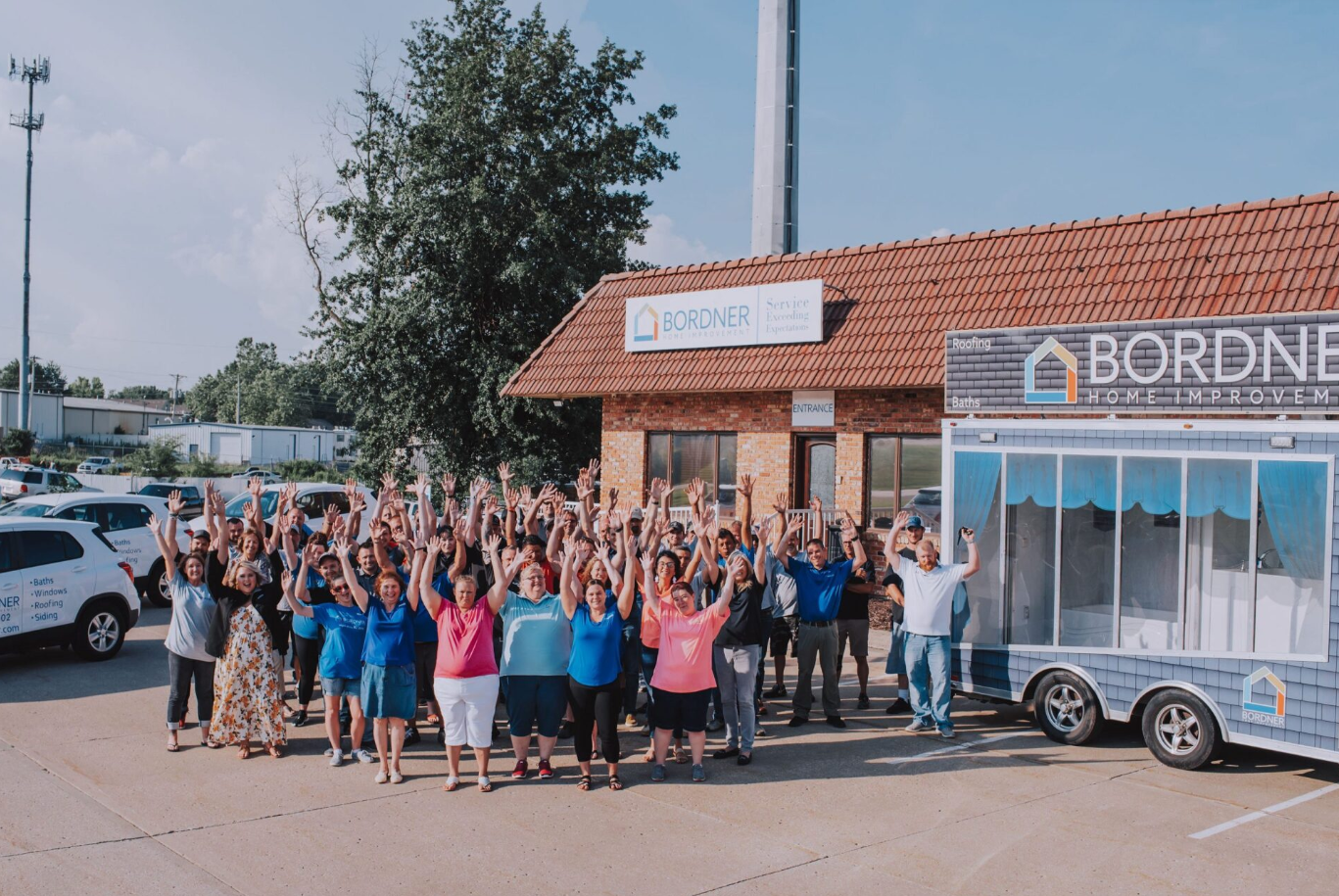 Roofing stands as a cornerstone service provided by Bordner Home Improvement and the company goes the extra mile to ensure impeccable installations. Its commitment to excellence resonates through its extensive range of roofing options, tailored to meet the diverse client needs for residential and commercial roofing in Kansas City. From the trusted asphalt composition roofing, to the meticulous gutter installation services, and the cutting-edge alternative materials and hard surface solutions, Bordner emerges as a prominent provider, boasting an unparalleled selection of premium roofing materials. Furthermore, in a proud collaboration with The Solar Guys, it offers sustainable solar solutions, backed by skilled roofers and solar technicians who guarantee superior installation and maintenance, safeguarding roofs and properties with unwavering dedication. 
Bordner Home Improvement's prowess becomes apparent as it showcases its unrivaled mastery in the art of applying their distinguished roofing systems. This revolutionary installation method not only amplifies the roof's resilience but also bestows a steadfast and dependable solution that endures the passage of time. Whether it entails rectifying impaired materials or substituting flawed fixtures, all repair and maintenance endeavors are carried out by adept professionals who adhere to the highest standards, leaving no room for compromise.
Beyond roofing, Bordner Home Improvement excels in a comprehensive range of services aimed at enhancing homes' appeal and functionality. With premium siding installation as a specialty, it offers fiber cement siding, vinyl siding, stucco board siding, and faux stone veneer, elevating curb appeal with a lifetime workmanship warranty. The company delivers quality energy-efficient replacement windows featuring insulated glass panels, durable fiberglass or vinyl frames, high-visibility screens, tilt-latch systems, and sloping sills. Its exterior doors, available in fiberglass or steel, offer customization options to match any home's style, leaving a lasting impression. In bathroom remodeling, the company excels in installing replacement tubs, showers, walk-in tubs, and bath & shower surrounds, utilizing resilient and low-maintenance materials from The Onyx Collection, ensuring long-lasting beauty and resilience.
Bordner sets the bar high when it comes to delivering outstanding service from beginning to end. Every project it undertakes is assigned a committed project manager, acting as the primary point of contact throughout the roofing or remodeling journey. Distinguishing itself from other contractors, the company prioritizes effective communication and remains readily accessible to address any inquiries or apprehensions, ensuring clients are well-informed throughout the entire process.
Bordner Home Improvement is located at 17101 E State Rd. Rte 350, Raytown, MO, 64138, United States. To schedule a free consultation, contact their team at (816) 358-2102. For more information regarding the services offered, visit their website.
Media Contact

Company Name
Bordner Home Improvement
Contact Name
Kyle Benoit
Phone
(816) 358-2102
Address
17101 E State Rd. Rte 350
City
Raytown
State
MO
Postal Code
64138
Country
United States
Website
https://www.thinkbordner.com/