Brooklyn Estate Planning Attorney Yana Feldman (https://yanafeldmanlaw.com/matters-of-trust-what-is-a-living-trust-and-do-you-need-one/) of New York Legacy Lawyers has recently published an informative article shedding light on the significance of living trusts and the benefits they offer. Titled "Matters of Trust: What is a Living Trust and Do You Need One?", the article aims to educate individuals about the importance of proper estate planning and the role that living trusts can play in securing their financial future.
As an experienced Brooklyn Estate Planning Attorney, Yana Feldman understands the complexities surrounding the legal aspects of managing one's assets and properties. In the article, she emphasizes the need for individuals to have a comprehensive estate plan, stating, "When it comes to getting your affairs in order, you need a plan for the future." With a focus on the younger generations, Feldman highlights a startling statistic that "78% of young adults aged 18-36 and 64% of Generation X—aged 37 to 52—do not have wills."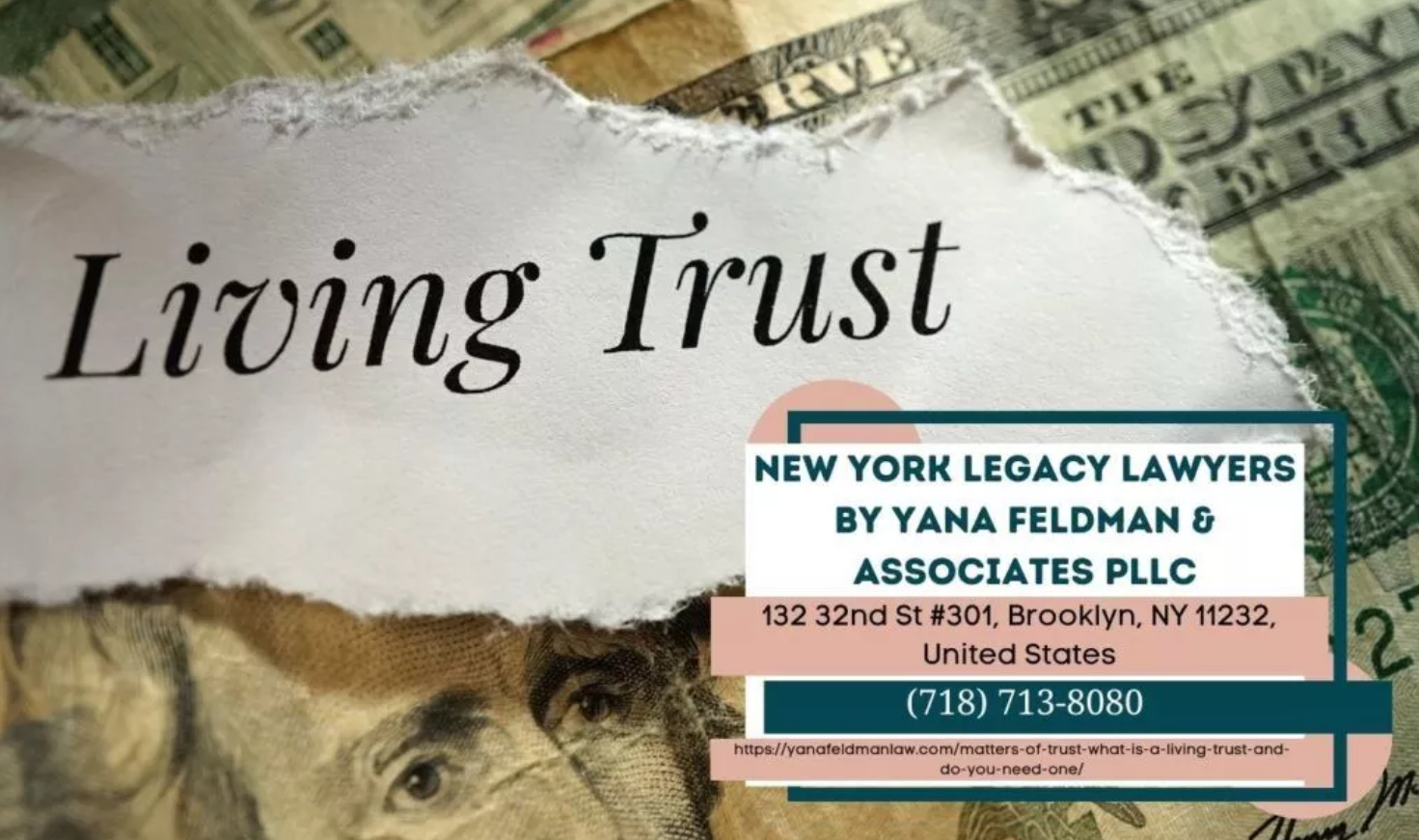 The article explains that a living trust is a legal document created during one's lifetime, serving as an arrangement between the individual and a trustee. Upon the individual's passing, the trustee assumes responsibility for managing the assets and property included in the trust, ensuring a smooth transition for the named beneficiaries. The Brooklyn Estate Planning Attorney describes two common types of living trusts: the revocable living trust and the irrevocable living trust. She clarifies that the revocable trust offers greater flexibility, allowing individuals to move assets in and out of the trust and even revoke it if needed. On the other hand, the irrevocable trust provides a more permanent solution, once assets are placed in the trust, they cannot be removed.
Addressing the assets that can be included in a living trust, Feldman states, "There are allowable and disallowable assets appropriate for transfer into a trust." The article lists various assets that can be transferred, including bank accounts, real estate, jewelry, cars, securities, stocks and bonds, artwork, and heirlooms. However, Feldman advises individuals to familiarize themselves with their state's specific rules and regulations, as certain assets may require the issuance of new deeds or titles in the trust's name.
Feldman emphasizes that the decision to establish a living trust depends on an individual's personal circumstances and desires. She encourages everyone to take stock of their assets and consider the financial well-being of their dependents. By seeking professional guidance from an estate planning attorney, individuals can determine the most suitable approach to managing their assets during their lifetime and beyond.
Yana Feldman's article sheds light on the importance of estate planning and the role that living trusts can play in securing one's financial future. By providing valuable insights and actionable advice, Feldman aims to empower individuals to take proactive steps in arranging their affairs and ensuring the well-being of their loved ones.
To learn more about estate planning and asset protection, readers are encouraged to request a consultation with Yana Feldman at New York Legacy Lawyers.
About New York Legacy Lawyers:
New York Legacy Lawyers is a reputable law firm providing legal services in estate planning, asset protection, and probate law. Led by Brooklyn Estate Planning Attorney Yana Feldman, the firm is dedicated to providing comprehensive and personalized legal services to individuals and families seeking to safeguard their financial futures. With a deep understanding of the intricacies of estate planning, New York Legacy Lawyers offers guidance and assistance in navigating the complex legal landscape. 
Media Contact

Company Name
New York Legacy Lawyers by Yana Feldman & Associates PLLC
Contact Name
Yana Feldman
Phone
(718) 713-8080
Address
132 32nd St
City
Brooklyn
State
New York
Postal Code
11232
Country
United States
Website
https://yanafeldmanlaw.com/