DiTRA corp, headquartered in Katy, TX, continues their expansion in the warehousing world as they become a member of WERC. WERC is an international professional organization focused on warehousing, distribution and fulfillment and its role in the supply chain.  
According to DiTRA's CEO, Christian Massow, "Joining WERC opens up avenues of opportunity we hadn't seen in the past.  Our experience with warehousing, distribution and the process of Digital Transformation makes DiTRA an ideal Partner for companies looking to upgrade their outdated systems."
DiTRA began their expansion a couple of years ago by joining Global software provider, Infor at www.Infor.com.
Infor Clients Include Citrix, Dunlop, Swarovski, Ferrari, Triumph, Eddie Bower, Babbitt Chainwheels, Drillmex & More!
Through training and careful planning, DiTRA became authorized to represent Infor's Warehouse Solution, CloudSuite Distribution, CloudSuite Distribution Enterprise, and their BI tool 'Birst.'  
Recently joining as COO, Chuck Mingrone brings 30+ years of warehousing and distribution experience, which enables DiTRA to be a leader in the industry who can work with most companies nationally on any project.
Benefits of Working with DiTRA Include: 
Increased Productivity.
Increased Profits.
Ability to achieve the Best Business Outcome.
DiTRA is a leader in ERP and helps companies on their Digital Transformation journey.  
Their SPE Roadmap includes:
Spot, prospects for improvements through Digital Transformation and upgrades ERP solutions.
Pursue opportunities for transformation.
Engage by implementing world class, Cloud based ERP solutions.
"Offering digital transformation as a core value to your business, our team has the process and tool knowledge, years of experience and the required skills to guide you through your digital transformation," states Chuck. 
DiTRA's Mission Statement:
Application of enabling technologies is changing how business is done.
The ability to adapt business models & processes, products & services, and sourcing & distribution is vital.
Visit www.DiTRAcorp.com to sign up for FREE ERP Value Assessment, or a Free Discovery Call.
Chuck Mingrone, COO          
203.889.6756             
chuck@ditracorp.com
Media Contact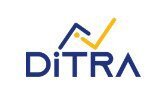 Company Name
DiTRA corp
Contact Name
Christian Massow
Phone
346.387.7184
Address
24285 Katy Fwy, Suite 400k-4
City
Katy
State
TX
Postal Code
77494
Country
United States
Website
https://ditracorp.com/