Michigan DUI lawyer, Paul J. Tafelski (https://www.michigandefenselaw.com/blog/six-things-to-know-about-prescription-drugs-and-driving-in-michigan/), of Michigan Defense Law has recently released an insightful article providing crucial information regarding the intersection of prescription drugs and driving. Titled "Six Things To Know About Prescription Drugs and Driving in Michigan," the article sheds light on the legal implications and potential dangers associated with driving under the influence of certain medications.
As a renowned legal professional in DUI cases, The Michigan DUI Lawyer brings his extensive experience and knowledge to the forefront of this informative article. By emphasizing the importance of understanding the law's stance on prescription drug use while driving, Tafelski aims to educate the public and raise awareness about this critical issue.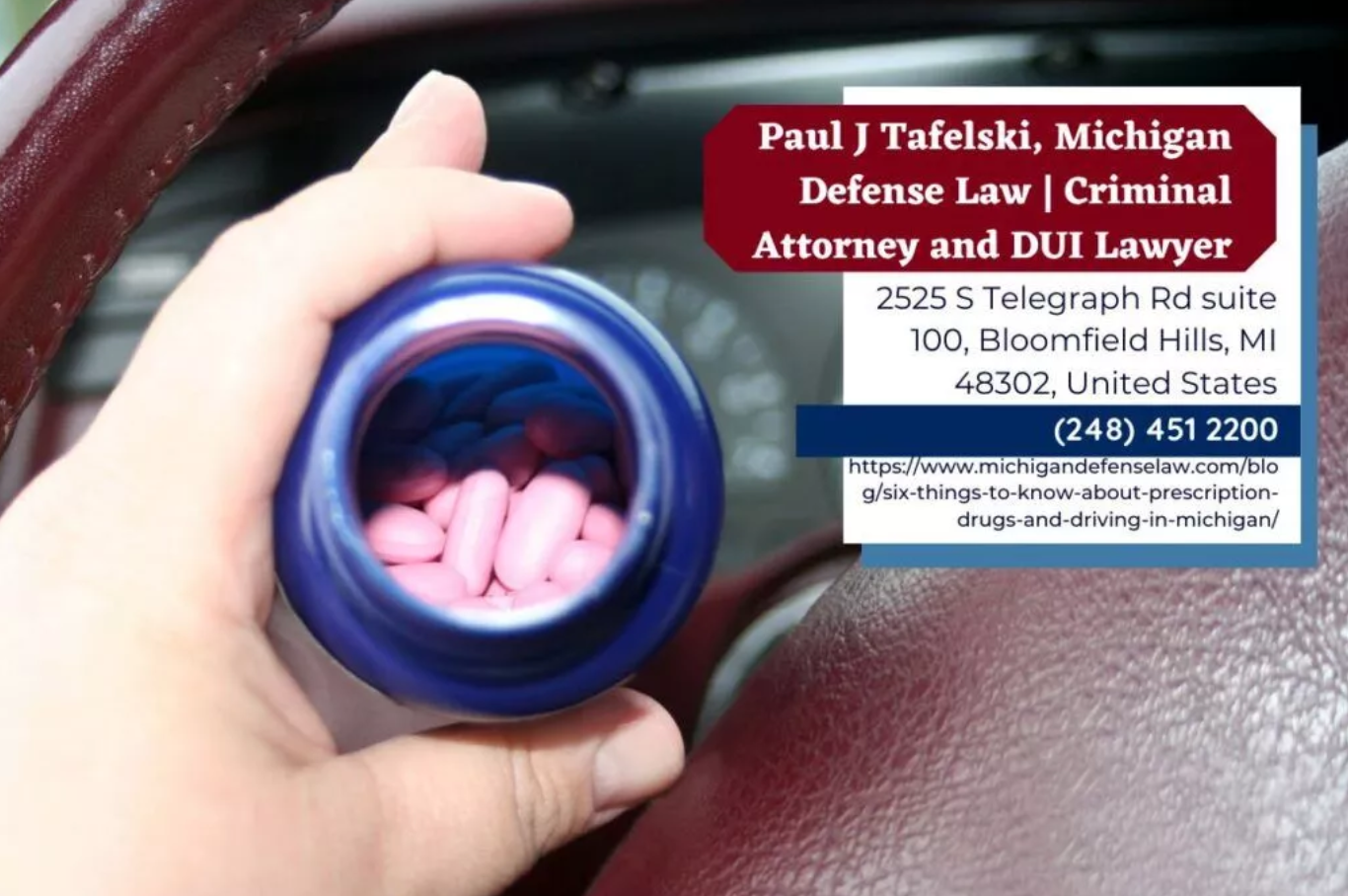 According to the Michigan DUI Lawyer, the offense of Driving Under the Influence of Drugs (DUID) in Michigan does not differentiate between prescription and non-prescription drugs. He states, "Just because you are taking a medication that was legally prescribed by a physician does not mean you are automatically immune from a DUID charge." This crucial distinction is often overlooked, placing individuals at risk of facing legal consequences for unknowingly violating the law.
In the article, Tafelski outlines six key points that individuals should be aware of when it comes to prescription drugs and driving in Michigan. One of the highlighted points states, "Everyone's metabolism is different. It is difficult to predict the effect of drugs and medications on your ability to drive a motor vehicle." This reinforces the unpredictability of how medications can impact an individual's driving skills, making it imperative to exercise caution and seek professional advice.
Tafelski goes on to caution readers about specific medications that may cause drowsiness or excitability, such as antihistamines found in cold and allergy preparations, tranquilizers, sleeping pills, pain relievers, and stimulants like caffeine, ephedrine, or pseudoephedrine. Understanding the potential side effects of these drugs and their impact on driving ability is vital to ensure the safety of oneself and others on the road.
The article also highlights the dangers of combining multiple drugs and emphasizes the importance of knowing the contents and side effects of any medication before getting behind the wheel. Tafelski underscores, "Taking drugs in combination can be especially dangerous. Know the contents and side effects of any drugs you take. Be sure it is safe to drive when you use them."
Paul J. Tafelski's article serves as a comprehensive guide, urging individuals to be informed and cautious when it comes to prescription drugs and driving. By sharing his experience and insights, Tafelski aims to protect the community and ensure that individuals are aware of the potential legal consequences and risks associated with driving under the influence of medications.
For those facing alcohol or drug-related driving offenses, Paul J. Tafelski recommends seeking the counsel of an experienced Michigan DUI lawyer who can provide personalized guidance and explain the legal rights and options in greater detail.
About Michigan Defense law:
Paul J. Tafelski is a highly skilled and respected DUI lawyer in Michigan. With a strong focus on criminal defense, Tafelski has built a reputation for his unwavering dedication to his clients and his extensive knowledge of Michigan DUI laws. With years of experience and a track record of successful case outcomes, Tafelski is committed to providing exceptional legal representation to individuals facing DUI charges. 
Media Contact

Company Name
Paul J. Tafelski, Michigan Defense Law | Criminal Attorney and DUI Lawyer
Contact Name
Paul J. Tafelski
Phone
(248) 451-2200
Address
2525 S Telegraph Rd suite 100
City
Bloomfield Hills
State
Michigan
Postal Code
48302
Country
United States
Website
https://www.michigandefenselaw.com/