NYC commercial real estate attorney Peter Zinkovetsky (https://www.avenuelawfirm.com/things-consider-signing-commercial-lease-nyc/) of Avenue Law Firm, has authored a comprehensive guide to help business owners understand the nuances of commercial leases in New York City. The article outlines key considerations and potential pitfalls that business owners should be aware of before committing to a lease.
Commercial leases can be complex, with terms and conditions that differ greatly from residential leases. This is why NYC commercial real estate attorney Peter Zinkovetsky stresses the importance of professional review prior to signing any agreements.
NYC commercial real estate attorney Peter Zinkovetsky states, "the courts will not be sympathetic to issues arising out of your failure to thoroughly read and understand the terms of your commercial lease." His message emphasizes the necessity of informed decision-making when it comes to commercial leasing.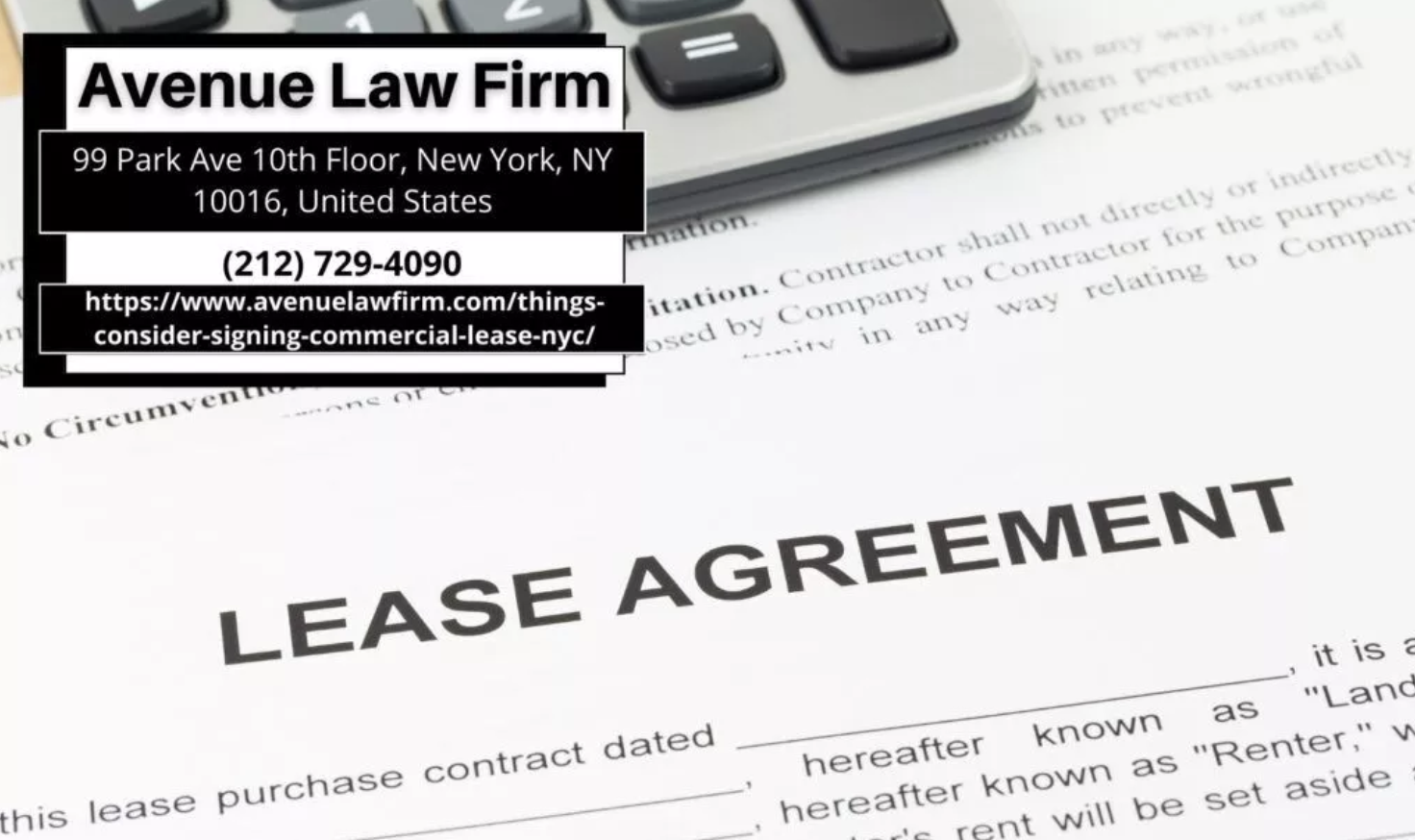 The comprehensive guide explores a range of crucial topics, including rent provision, tenant responsibilities for property improvements and repairs, subleasing conditions, renewal options, rent concessions, and contract breach scenarios. By outlining these considerations, Peter Zinkovetsky offers a roadmap to navigate through the often intricate details of commercial leasing contracts.
Further delving into the content of the guide, Zinkovetsky discusses the possibility of landlords asking commercial tenants to pay real estate taxes and maintenance costs, as well as rent escalations, often tied to the Consumer Price Index (CPI). He also elaborates on the typically "as is" condition of commercial properties and the associated tenant responsibilities, as well as the terms and conditions of subleasing and lease renewal options.
Rent concessions, a strategic tool used by landlords to attract or retain tenants, are also detailed in the guide. Zinkovetsky lists common types of rent concessions and their potential advantages to tenants, highlighting the importance of negotiations in lease agreements.
The article explores what happens in case of a breach of contract and concludes with a candid discussion on lease restrictions. With the guidance of a knowledgeable real estate attorney, Zinkovetsky assures that business owners can secure lease terms that favor their operations.
About Avenue Law Firm:
Avenue Law Firm is a distinguished legal entity based in New York City, highly regarded for its profound understanding of real estate law. Peter Zinkovetsky, a leading figure at the firm, is an accomplished real estate attorney known for his strategic approach, client-centered services, and extensive knowledge of commercial leasing. With a passion for educating business owners about the complexities of commercial leases, Peter Zinkovetsky continues to be an invaluable resource in NYC's vibrant commercial real estate scene.
Media Contact

Company Name
Avenue Law Firm
Contact Name
Peter Zinkovetsky
Phone
(212) 729-4090
Address
99 Park Ave 10th Floor
City
New York
State
New York
Postal Code
10016
Country
United States
Website
https://avenuelawfirm.com/