Fort Worth, Texas – Pest Control Pros is excited to announce the opening of its new office in Fort Worth, Texas. This expansion is a response to the increasing demand for professional pest control services in the region. With a team of highly skilled exterminators who possess in-depth knowledge of the Fort Worth area, Pest Control Pros is equipped to tackle pest issues efficiently and provide quick and effective elimination of pests, including bees, termites, roaches, mice, rats, bedbugs, and more.
Pest Control Pros has built a reputation for delivering top-notch pest control services in various communities. The choice to establish an office in Fort Worth reflects the company's dedication to delivering tailored solutions that address the unique challenges presented by the local environment. The professional exterminators at Pest Control Pros have undergone rigorous training to understand the unique pest-related issues Fort Worth residents and businesses face. Their expertise, combined with state-of-the-art tools and techniques, ensures the swift and efficient elimination of pests while prioritizing the safety of both humans and the environment.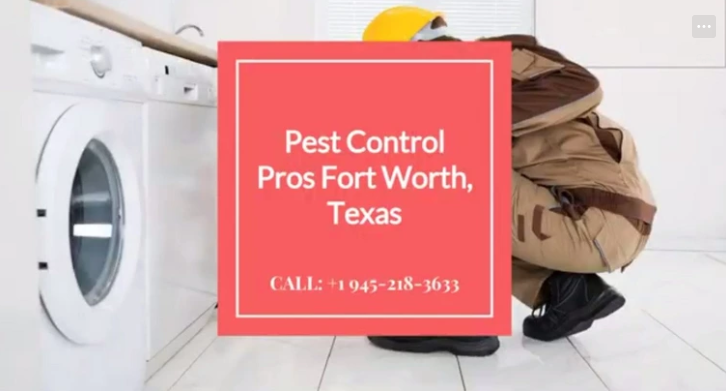 With a focus on delivering exceptional results, the company offers a comprehensive range of services designed to address the diverse needs of its clients. From thorough inspections and precise pest identification to tailored treatment plans and preventative strategies, Pest Control Pros ensures that every customer receives personalized attention and effective solutions.
In addition to providing pest control solutions, property owners in Fort Worth can also take advantage of interactive pest education and informative blogs available on the company's website. These resources empower customers to learn about common pests, their behaviors, and effective prevention and control measures. By sharing knowledge and insights, Pest Control Pros aims to equip customers with the necessary tools to make informed decisions and take proactive steps in safeguarding their homes and businesses.
Understanding that effective communication is essential in delivering exceptional service, Pest Control Pros Fort Worth Texas has carefully selected and trained its staff to ensure they possess excellent interpersonal skills. The team members are not only experts in pest control but also adept at engaging with customers, listening to their concerns, and addressing their specific needs.
"The Pest Control Pros – Fort Worth Texas Exterminator was friendly, knowledgeable, and kept us informed of what to expect at each stage. The wasp-looking mask was awesome. The nest was located and destroyed most efficiently, along with its inhabitants. Thank you for a job well done!" Raved one of the customers.
The opening of the Fort Worth office marks a significant milestone for Pest Control Pros as they expand their footprint and bring their customer-centric approach to the local community. With a focus on providing exceptional service and educational resources, Pest Control Pros aims to raise awareness about pest control best practices and foster a collaborative relationship with customers.
For more information, visit the company's website or contact the new office at (945)218-3633. Pest Control Pros is located at 3114 Prospect Ave, TX 76106, Fort Worth, Texas, 76106, US. 
Media Contact

Company Name
Pest Control Pros
Contact Name
Brian
Phone
(945)218-3633
Address
3114 Prospect Ave
City
Fort Worth
State
Texas
Postal Code
76106
Country
United States
Website
https://pestcontrolprosdallas.com/