Daytona Beach, FL – Residue build-up causes wear and tear on carpets and area rugs, leading to matting and damaged fibers. Continuous use of dirty carpets causes micro-abrasions from the grime, dirt, and soap scum left behind by carpet cleaning companies. However, with Zerorez of East Florida, property owners can extend the life of their carpets, upholstery, and furniture with proprietary cleaning techniques developed after years of research. The team uses solutions with the same cleaning pH as soaps and detergents without the dirt-attracting residues other methods leave behind. Whether a mess from a pet, a nasty spill, or neglect, the highly-trained experts coordinate with homeowners to inspect, plan, and clean surfaces in a home, making them one of the most trusted providers in the industry who value integrity, commitment, ethics, and property safety. 
Most manufacturers require property owners to clean carpets at least once every 12-18 months to maintain their warranty, which may be insufficient in a busy household. According to Zerorez of East Florida, the frequency of vacuuming and evidence of spots should determine the cleaning period because spotless carpets add luxury, softness, and warmth to a home. Their cleaning process starts with an eco-friendly, non-toxic pre-spray. It's an agitation tool with counter-rotating brushes that gently scrub a carpet to dislodge hair, allergens, dead skin, and deeply embedded soil, dirt, or debris from fibers vacuums can't reach.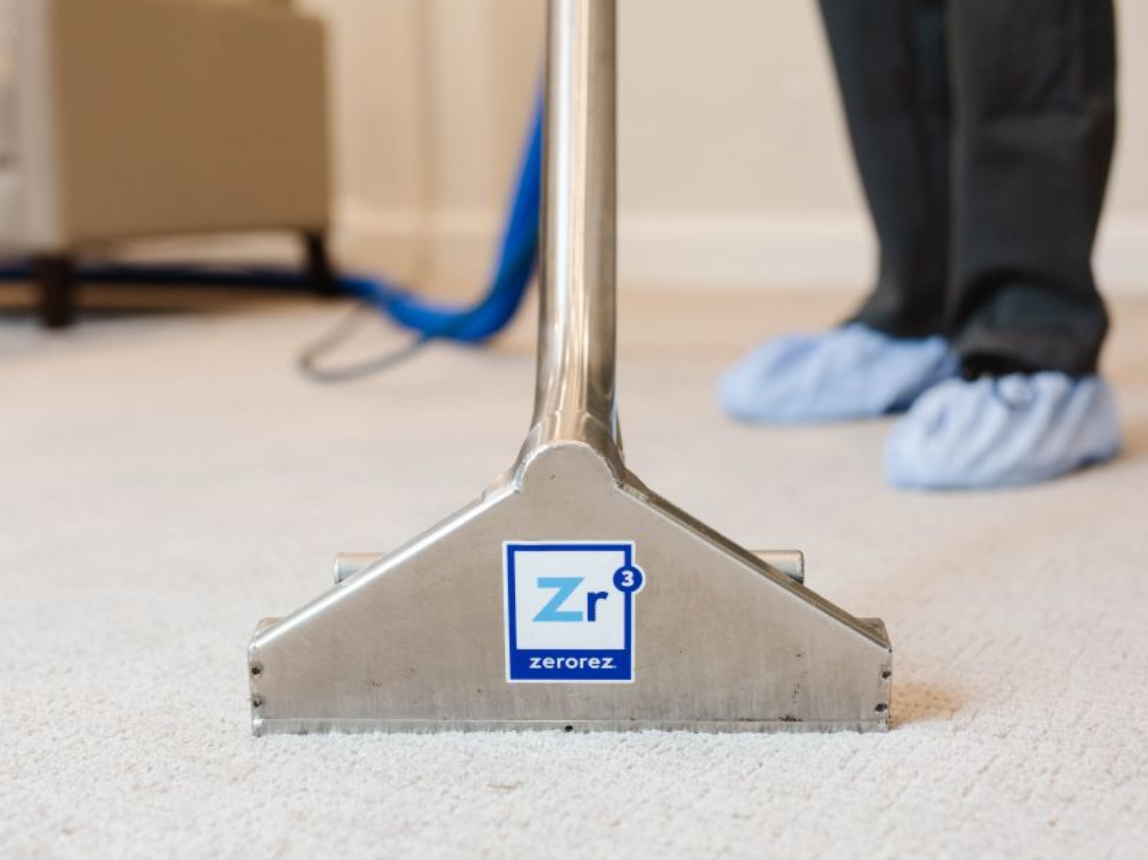 Once completed, the team uses the patented Zr Wand™, a unique water technology with a fluid-controlled process to create a high-powered rinse and suction. It removes dirt and debris from hard-to-reach areas without flooding the carpet's pad and backing, resulting in faster dry times. The team then uses Zr Water®, an all-surface, non-toxic cleaner combined with an electrolyte to rinse and extract dirt without leaving a sticky, soapy chemical residue behind. It goes through a proprietary membrane that separates the water molecules into a high-pH cleaning fluid to act like a detergent without the side effects of toxic chemical additives. After cleaning ends, the team may apply a fabric protector to the carpet to resist soiling and staining. 
A few days before an appointment, the company emails clients tips about the upcoming cleaning experience. Before arriving, the team asks clients to vacuum the areas that need cleaning and move the furniture. While a two-person crew can move some items around a home, they don't carry bookcases, pianos, beds, electronics, entertainment centers, or other similarly heavy objects. 
Alongside carpet cleaning, Zerorez of East Florida uses the Zr Clean technology to offer upholstery, tile/grout cleaning, fabric protection, pet odor treatment, mattress cleaning, commercial services, air duct cleaning, and more. Visit http://zerorez.com/eastflorida to learn more about carpet cleaning in the East Florida area, or call (386) 222-0260 to inquire. The company is at 512 Fentress Blvd unit J, Daytona Beach, FL, 32114, US.
Media Contact

Company Name
Zerorez of East Florida
Contact Name
Joe Huntley
Phone
(386) 222-0260
Address
512 Fentress Blvd Suite J
City
Daytona Beach
State
FL
Postal Code
32114
Country
United States
Website
https://www.zerorez.com/eastflorida